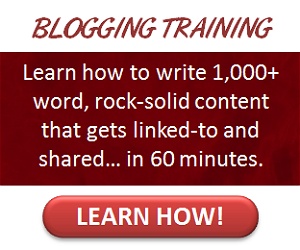 Danny Iny is also known as the "Freddy Krueger of Blogging". He started Firepole Marketing and has always had a love for blogs. One day he posted on Copyblogger and it generated over 200 comments, over 900 tweets, and a large amount of traffic back to his website. He posted to another site called Postblogger which lead to even more notoriety and traffic back to his website.
He continued to submit posts and the feedback he received was amazing which made his engines turn. Thousands of bloggers wanted to know what lead to his success and what his secret was to successful blogging. The name "Freddy Krueger" came from a comment that Danny received.
"Wow, Danny, it's like you're Freddy Krueger. Wherever I turn, you're there!"
Therefore, he started to write, and write, and write, and write and from this www.writelikefreddy.com was born. He has learned some very important things regarding his experience. The value of posts from guests will help increase your drive and the amount of posts that you write. He found that you have to be different, stand out from the rest and literally, impress the blogging world.
He started to develop a system that would help others learn from his experiences. He wanted to implement many things into this system. For instance:
The ability to write large numbers of posts; the average of 5-30 per campaign that would all post in the same week.
Posts that would be high-quality. (Danny realized that this formula was essential in order for the results to be successful.)
His posts would have to be great and written quickly.
He wanted to pitch ideas to a large amount of blogs before starting his work, and wanted them be accepted.
The system would not allow for a loss of ideas or inspiration and would help with time management.
Write like Freddy promises to teach anyone the art of writing great posts. Advises how to get the posts published anywhere your heart desires and help get anyone the reputation, traffic, and sales that come along with it.
Danny started out over a year ago and had no reputation in the blogosphere and no traffic. Since his first break, he has had over 80 posts that have all done extremely well. He was not sure how he teach blogging or writing to anyone because his business was specifically geared towards marketing.
The Write like Freddy training system includes four training segments that will teach you how to create blogs that kick-ass and get you the attention you want. This will cause people to like and share your posts and increase your productivity. The classes are delivered via pre-recorded videos, worksheets, MP3 audio files, PDF slides, transcripts and other materials.
The curriculum will give you the ability to effectively change the way you blog. Some of the lessons include:
What the three major factors are before you post on a blog
Show how to write guest proposals that will get accepted on any blog
How to come up with a creative angle for your post
Helpful tips on how to never run out of ideas or inspiration
Picking the headline that will draw attention
Where to publish your posts
And so much more!
His testimonials speak for themselves. One in particular:
"Danny's class was fast paced, action packed and always on point. In 4 short weeks he shows you how to target, research, request, write and be asked back for future guest posting opportunities." -Kraig from www.ITManagerHQ.com
If you don't think you can write or blog, then think again! According to Danny, this system can help anyone, even if you are not a great writer!